Tamgaly-Tas is an area located 120 kilometers north of Almaty. Every year I bolt new routes there, so this guidebook could be a bit outdated.
Even if you don't need an instructor—feel free to send your questions.
How to get
Drive North from Almaty towards Kapshagay city. Skip the city and keep driving until you reach a roundabout approx 15 kilometers from Kapshagay. Turn right and drive towards Bakanas. After approx 10 kilometers, turn left on the dirt road and follow it until you reach a river. Two kilometers upstream, you'll find some steep cliffs and—alas—a gate. That's Tamgaly-Tas.
Facilities
There are none. Nearest shops and a hospital located in Kapshagay. Woods are few, so no bonfires, bring gas. You can camp for free anywhere outside of the fence. There is no cell connection. Rarely someone lucky gets a weak signal in the steppe couple of kilometers from the area (see the directions).
Season
In Spring season starts at the beginning of March (cold at night) and lasts till mid-May (already hot). Summer is too hot to climb. In Autumn, the sun calms down in mid-September, and the climbing season starts and lasts till November.
During the spring holidays in Almaty—March 8 and 23—the area is crowded by local climbers.
Dangerous insects and animals
Simply don't touch snakes and evil-looking spiders, and you'll be fine.
Black Widow is the only really dangerous spider here. It's a 3cm solid-black spider, whose poison could kill almost every animal or human alike. I haven't seen any of them in 20 years of climbing at TT.
Scorpions appear from mid-April. Their bites are painful but relatively harmless.
Solifuges (camel spiders, wind scorpions, sun spiders) are active during the Summer. They don't have any poison but have strong jaws instead.
Snakes—Vipers and Gloydius. They won't bite you unless you step on them or try to play or catch them. Simply don't.
Coyotes are harmless, but howling aloud during cold spring nights. Don't be afraid they are cute and shy.
Do's and dont's
Wear a helmet even on bolted routes. There are some loose rocks here or there.
Be aware of old bolts. There are two types of fine bolts: glue-ins and expansion-ones. They look fresh and shiny. The rest of the bolts: rusty glue-ins, thin tin-like hangers, and all ancient exotic should be treated as suspicious and dangerous.
Don't chip holds.
Don't bolt routes without discussing it with locals (namely—me). On this later.
Climbing
There are two super-sectors: Gavan and Riverside. Gavan (Harbor) is a gorge surrounded by cliffs. There are slabs (up to 7b) and easy multipitches. Riverside is a home for harder routes (up to 8-ish Proj) and multipitches.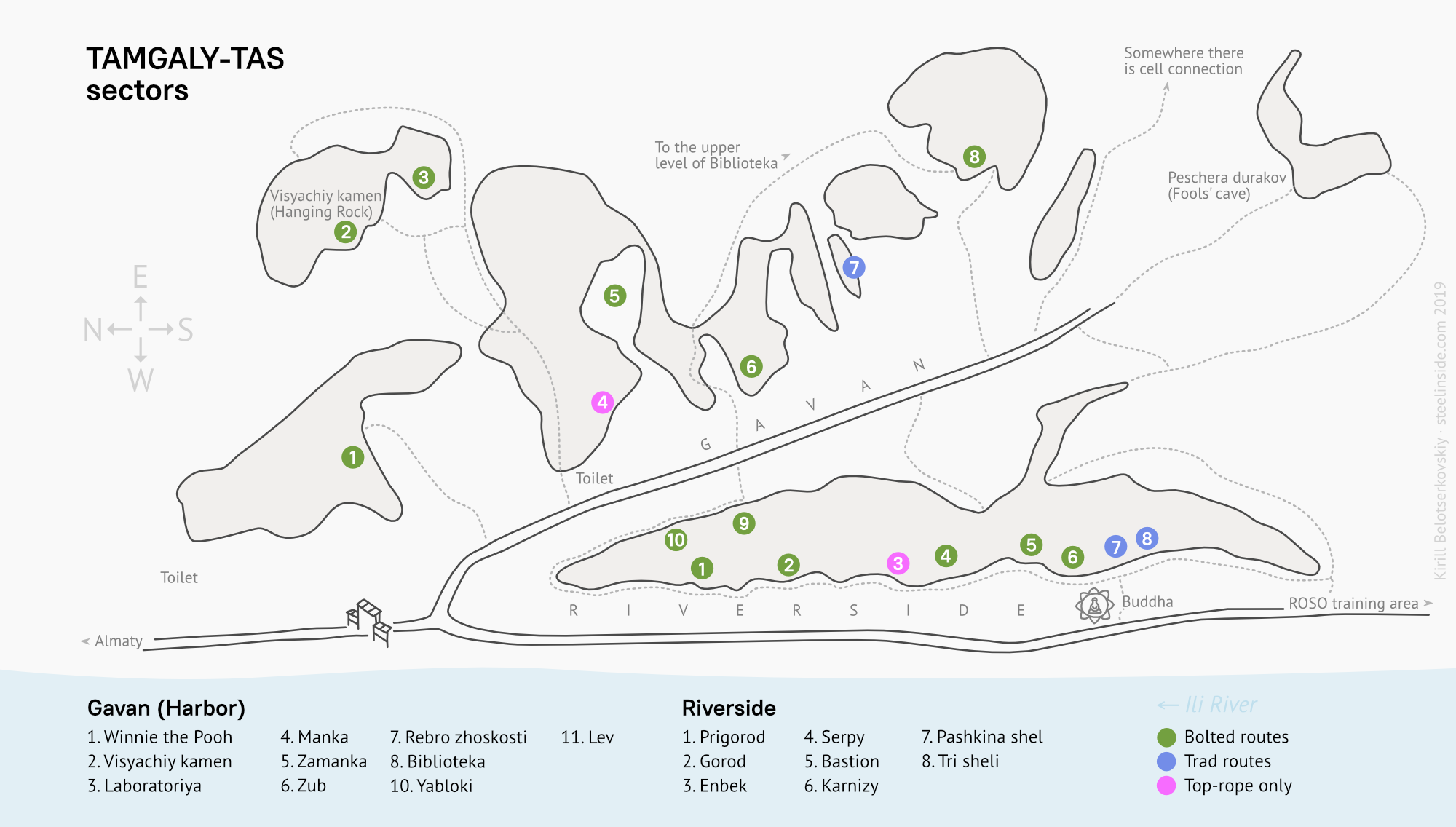 Most of the routes are bolted, but if you are into trad, there are routes for you as well. Red lines on the topos shows bolted lines, blue—trad. Almost any route could be done on a top-rope. On the ridge thick metal spikes are installed to rig a top-rope from. Pebble wrestling? There is a playground for you, but sorry boulders are not pictured here yet.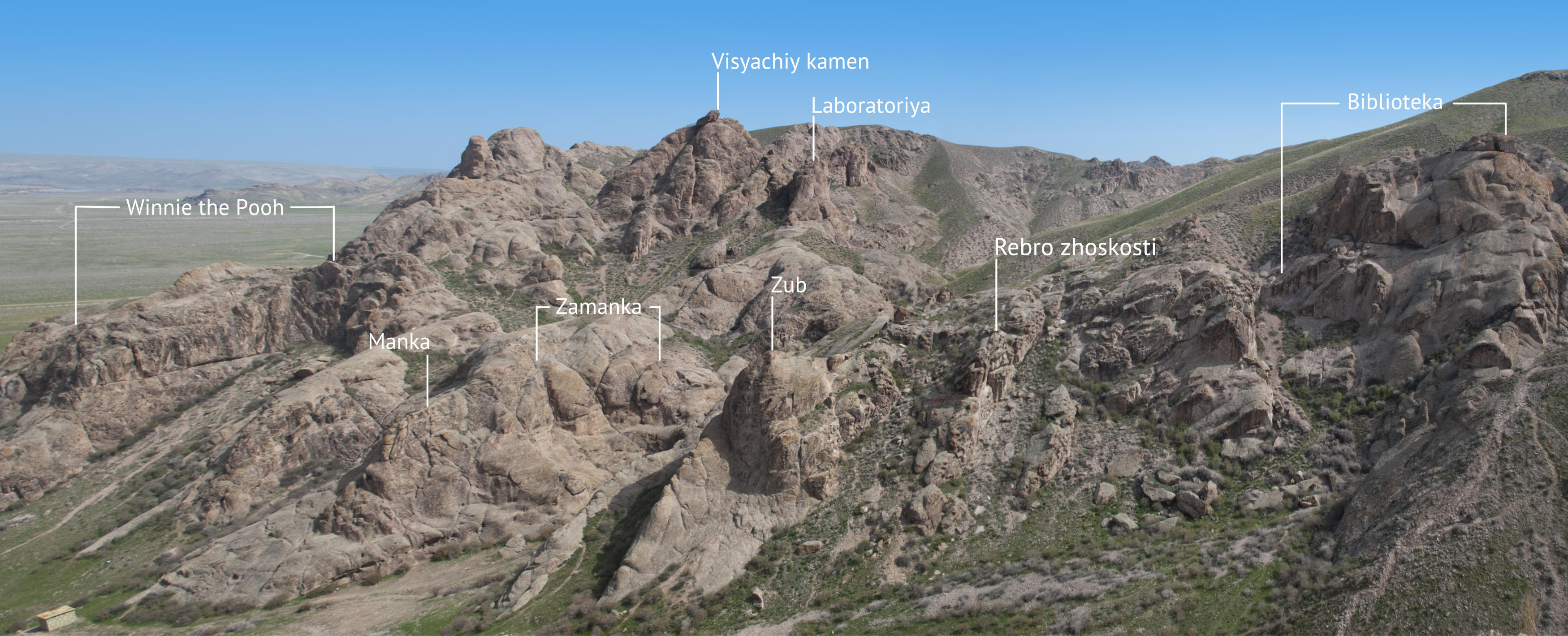 Gavan
Winnie the Pooh
When you enter the gorge, on the left-hand side, you'll find Winnie the Pooh sector. It's facing South, so it's warm and cozy during chilly early-Spring and late-Autumn days. In late Spring, it feels like a frying pan.
Nepravilniye pcholy — 5с+, 23m
Cristopher Robin — 5с, 23m
Lovushka dlya Slonopotama — 5c, 23m
Kroshka Ru — fr4. The route ends on the ledge below the chimney called Sova. It's common to climb a Kroshka Ru and Sova in one pitch.
Kenga — 5а+. Kenga ends on the same ledge with Kroshka Ru. You can link up Kenga with Tigra.
Sova — 5b, 10m, 4 bolts
Tigra — 5b, 12m
Pyatnistiy Schasvirnus — 6b+, 12m, 6 bolts
Winnie the Pooh — 6a+, 12m, 5 bolts. Not that hard but awkward. One of the best routes here, highly recommend.
Pyatachok — 6с, 11m, 5bolts. Hard boulder problem on the first bolt.
Levoe uho oslika Ia — 6b+, 11m, 4 bolts
Pravoe uho oslika Ia — 6а, 11m, 4 bolts. This and previous route share bolts.
Krolik — 6а, 12m, 5 bolts
When belaying from the ledge, put yourself on a leash—there are bolts for that. Without a leash, you can fall 10 meters to the ground.
I bolted routes #9, 10, 11 in the Spring of 2014. All the rest in 2017.
Manka
A bit further on the left side of the gorge, you'll find a slabby rock called Manka. There are some boulder problems on the bottom bulge. They start in the bushes and follow drilled holes over the lip. If you are not interested, there are top-rope routes to the top. To rig a top-rope scramble backside of a cliff.
Zamanka
Behind Manka is Zamanka. All but one route I bolted during Autumn of 2017. One route—Sinaya Gusenitsa—I bolted in 2019. Almost all routes instantly became local classics.
To reach the South-facing side, walk into the chamber thru the bushes and scramble a slab on the left. To get to the North-facing side, before the entrance to the chamber, climb a little step (2m) and follow a ledge towards the rock.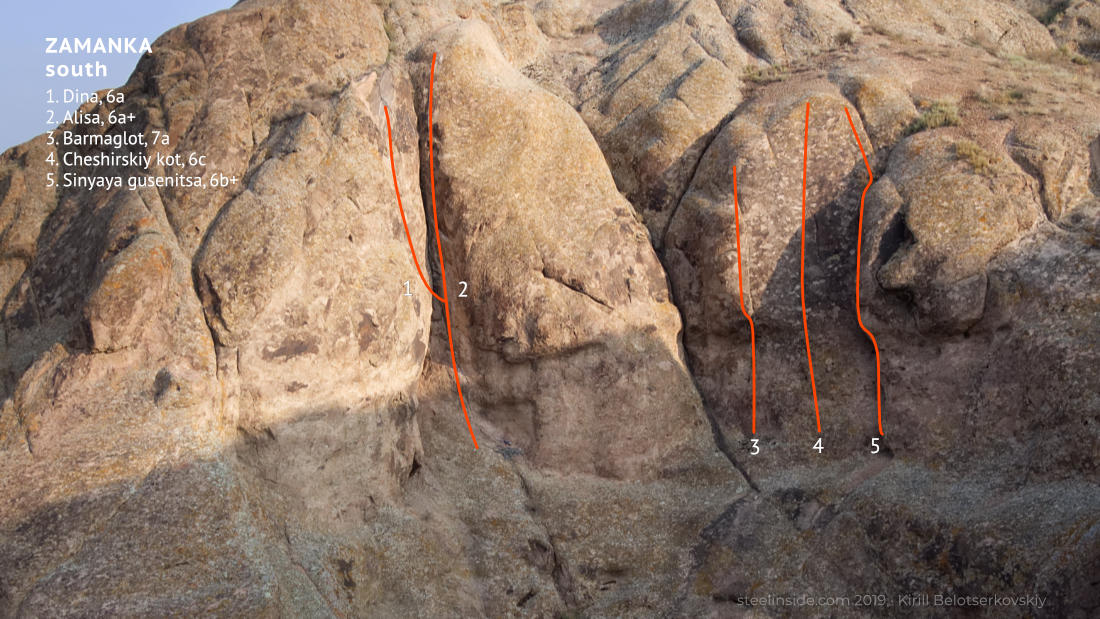 South face
Dina — 6а, 15m, 8 bolts. First three bolts are shared with Alisa.
Alisa — 6a+, 15m, 8 bolts. A crack? A chimney? An off-width?
Barmaglot — 7a, 12m, 7 bolts
Cheshirskiy kot — 6с, 13m, 8 bolts. Small and crusty crimps appear when you are staring at them and disappears if you blink. Testpiece for your footwork.
Sinyaya Gusenitsa — 6b+, 13m, 8 bolts. Not so steep but polished chimney.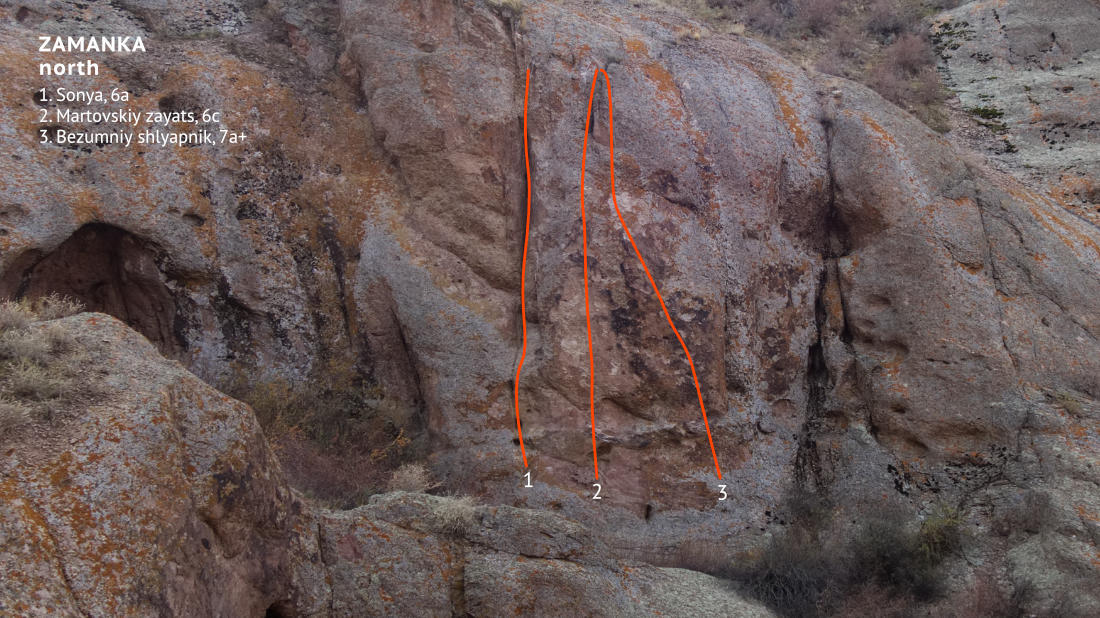 North face
Sonya — 5с, 10m, 5 bolts
Martovskiy zayats — 6с, 10m, 5 bolts
Bezumniy Shlyapnik — 7a+, 10m, 6 bolts. Can you crimp hard?
Visyachiy kamen
Visyachiy kamen (Hanging Rock) is easily recognizable feature. It's a huge boulder lying atop of the tallest cliff. There are three awesome multipitches. First—Houl—was bolted by Yuri Gorbunov in 2007 (I rebolted it with stainless glue-ins in 2019). Two others—Totoro and Navsikaya—I bolted in 2015.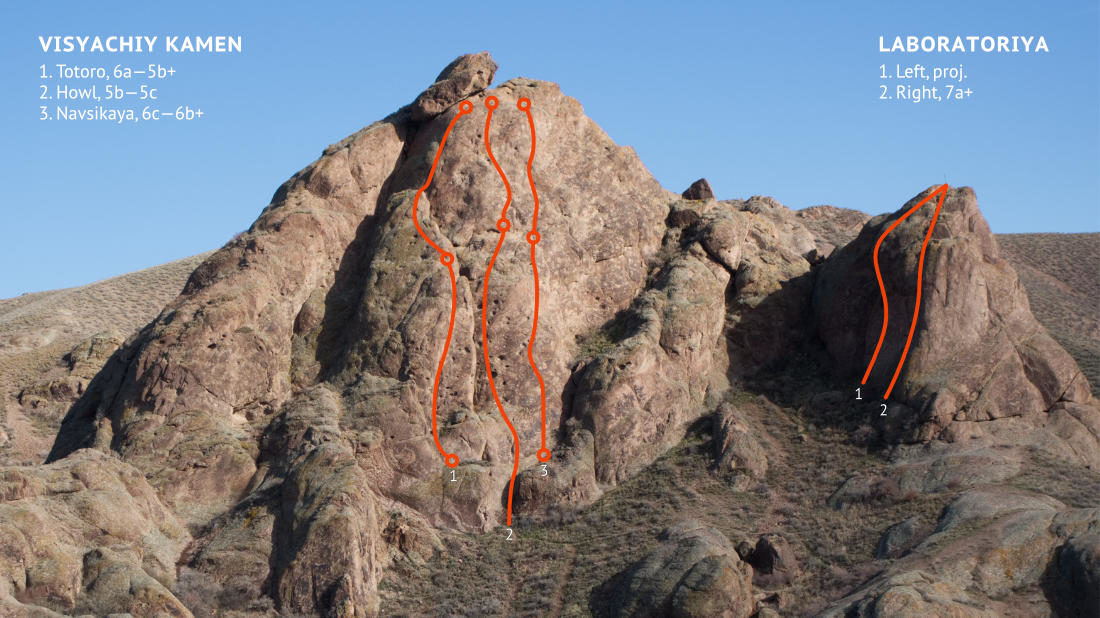 Totoro
1. 6a, 25m, 8 bolts
2. 5c, 18m, 7 bolts
The second pitch is cleaned, but still slippery after the rain.
Howl
1. 5b, 25m, 10 bolts
2. 5с, 20m, 7 bolts
If you use 50-meter rope, on the descent, stop on the Navsikaya ledge. From the middle station, there are 30 meters to the bottom and only 25 to Navsikaya ledge.
Navsikaya
1. 6c, 20m, 8 bolts. Superb slab climbing.
2. 6b+, 15m, 6 bolts
One of my favorites here.
Laboratoriya
Sector located to the right of Visyachiy Kamen. Currently, there are two oldish routes. When the left-one was bolted (90-th, perhaps) author put (and removed afterward) some holds like in the gym. Without these holds, it stays a project for the strongest locals.
Left — Proj.
Right — 7a+/b
Lev
To the right from the entrance into Gavan are Lev and Yabloki. On the Lev two slabby routes and one is dead-vertical.
Rrr Meow — 6а, 25m, 12 bolts
Bonifatsiy — 6с, 25m, 14 bolts
Razminka — 7а+, 15m, 8 bolts. Hard boulder on the crux and gentle crimping before and after. If you are in this category, you'll like it.
I bolted routes #1 and 2 during the Fall of 2018; #3 was bolted by Alexander Markhlevskiy during the 90-th.
Yabloki
There are plenty of easy (and few not-that-easy) routes featuring natural holes of different sizes. And they are slabs, yes. This sector gets the first sun, so in March, when mornings are cold, all the action is here.
Vatrushka — 5c, 12m, 5 bolts. Do you like corners?
Damskie palchiki — 6с, 10m, 5 bolts. You'll need at least on strong palchik (finger).
Sharlotka — 6b, 20m. Follow the thin seam in the middle.
Blin — 6а, 23m, 12 bolts → 5с, 15m, 8 bolts
Bublik — 5с+, 20m, 9 bolts
Trbochki s kremom — 6b+/c, 20m, 10 bolts. Don't try to avoid a blank slab of the upper part. Face it! Fight it! But gently, it's a slab anyway.
Morozhenoye — 5b, 18m, 6 bolts → 5b+, 12m, 6 bolts
Pirozhnoye — 5c, 18m, 9 bolts
Tort — 5b, 18m, 10 bolts
Ne ishi sovu! [trad] — 5с. Clip the first bolt of the Tort and climb towards the chains of Pechenka along the thin cracks. Offset nuts and small cams fit well.
Pechenka — 5b+, 15m, 8 bolts
Nezavershonniy geshtalt — 5b, 15m, 7 bolts
Bulochka — 5b+, 15m, 8 bolts
Napugay sovu! [trad] — fr4, 17m. On the top clip, two not connected bolts.
Naidi sovu! [trad] — fr4, 18m. The top is two bolts without a chain.
I bolted routes #7, 8, 9 in 2014. All the rest during spring and autumn of 2016.
Zub
Opposite to the Yabloki stands Zub with four fresh (mean still some crusty holds) routes. I bolted these routes in autumn of 2019.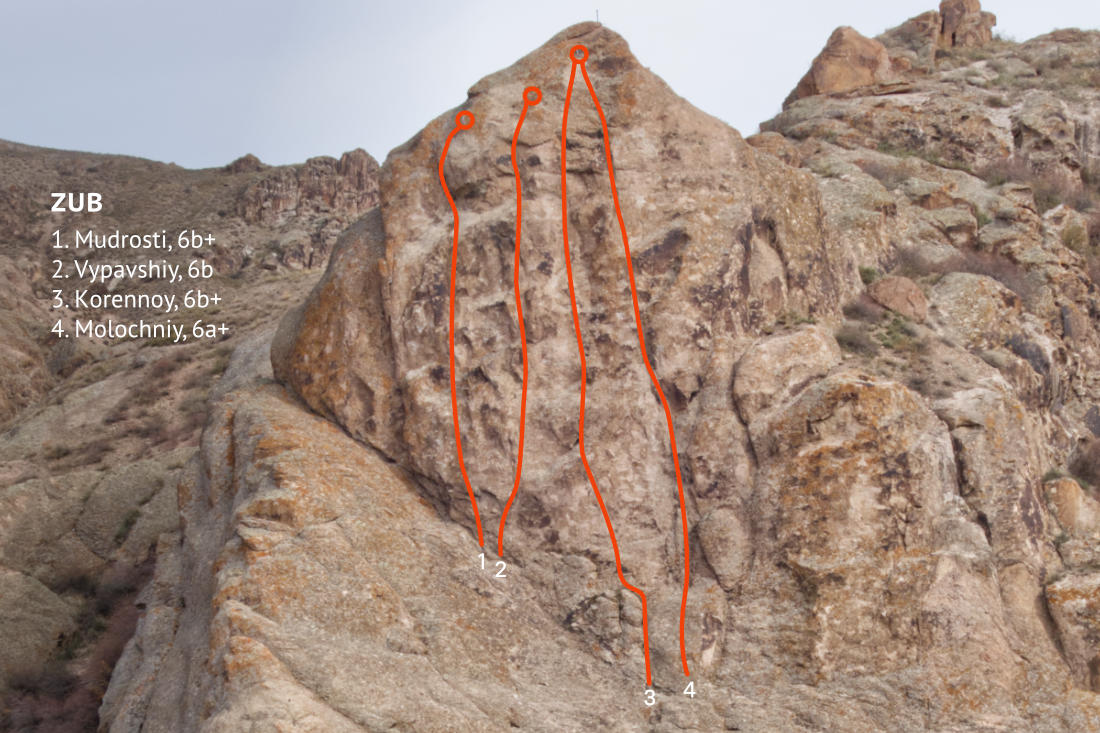 Mudrosti — 6b+, 20m, 9 bolts. Clip two lower quickdraws from the ledge. Thus there are fewer chances to hit the floor with your feet.
Vipavshiy — 6b, 20m, 9 bolts
Korennoy — 6b+, 25m, 10 bolts
Molochniy — 6a+, 25m, 11 bolts
Rebro Zhostkosti
It's a small cliff to the right from the Zub. There is only one bolt—on the top. All routes are meant to be done on gear. Placements are solid, climbing is tricky.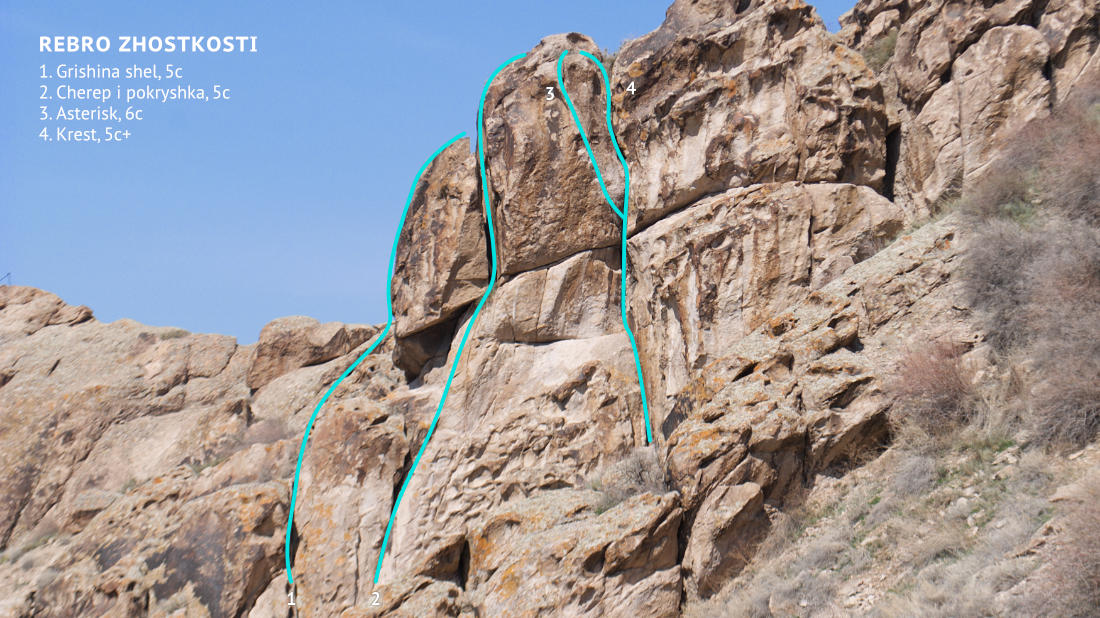 Grishina schel — 5b, 15m. Short crack to the left from the rest.
Cherep i pokryshka — 5с, 15m. Put a good cam or nut below the cornice and make a tricky move to get into the chimney.
Asterisk — 6с, 12m. Follow the thin crack after you reach horizontal-one. Don't forget to put a pro—ledge is close, and pendulum into the corner would be nasty.
Krest — 5c+, 10m. Follow the crack in the corner.
Biblioteka
Biblioteka is the farthest sector in the Gavan. It takes 10 minutes to get there from the river. There are two levels with different approaches. While getting to the lower level is straightforward, way to the upper is not that clear. Short but obviously dangerous way: one can get there simply climbing short exposed slab covered with scree and liken. A way for the less brave, but smarter ones: take a trail, which starts to the left from Zub and follow it until it leads you to the sector.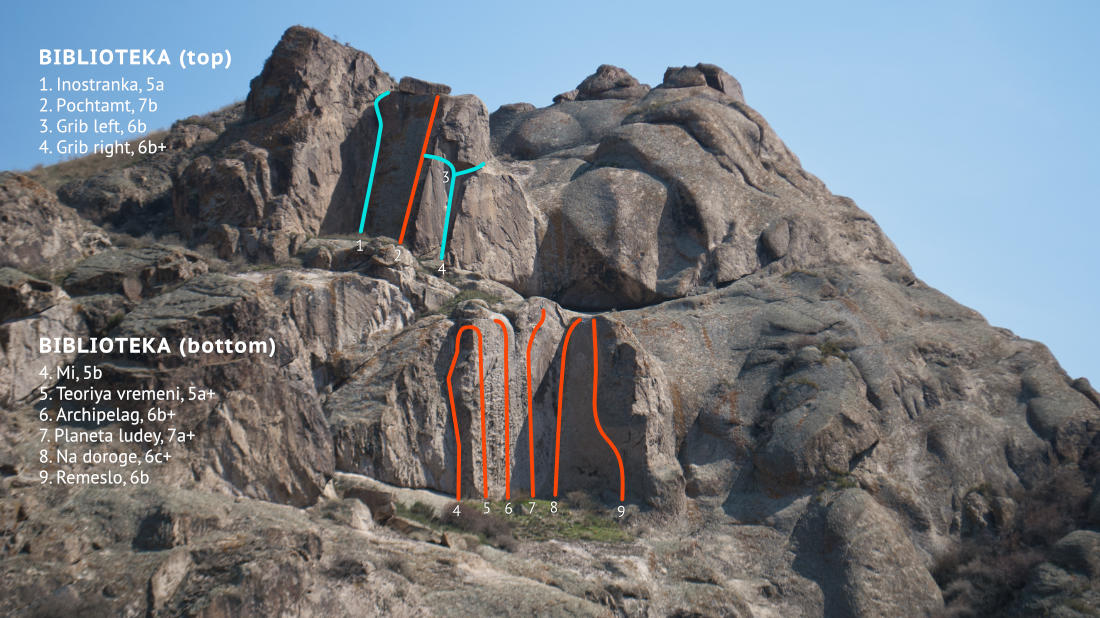 Upper level
Inostranka — 5b, 15m. Take big (#5—6) cams. The crack is easy, but without big cams, it becomes free solo with rope.
Pochtamt — 7b, 15m, 7 bolts. It's a 70-degree slab. There are footholds, believe me. Even if you don't think that they actually exist, they are.
Grib (left) — 6b, 17m. Follow wide crack (#4 cam) to the cornice, then turn left. Throw your feet over blank face and voila! You're on the upper bolts of Pochtamt. If you are hardcore tradster, then put a grey cam behind a flake on the right, exhale and climb a slab to the top. If you're a sane person—simply clip the bolts and get to the chains.
Grib (right) — 6b/+. Follow the crack to the cornice, put some bombproof cams, and make an unusual movement to get to the ledge. A bolt with rap-ring waits for you below the overhang.
Bottom level
Mi — 5b, 14m, 5 bolts
Teoriya vremeni — 5b, 14m, 5 bolts
Archipelag… — 6b+, 14m, 5 bolts. The beginning is teasingly easy.
Planeya lyudey — 7a+, 15m, 7 bolts
Na doroge — 6с+, 15m, 8 bolts. Agonizing stemming in the virtually blank corner.
Remeslo — 6b, 15 m, 6 bolts. I don't know the author, but I rebolted it in 2017.
I bolted Planeta lyudey in 2014, Pochtamt, Mi, Teoriya vremeni, Na doroge and rebolted Remeslo in 2017.
There is a multipich to the right from Biblioteka, but it's unpopular and covered with liken.
Even further to the right, there is a canyon. On both sides, there are bolts to rig a highline.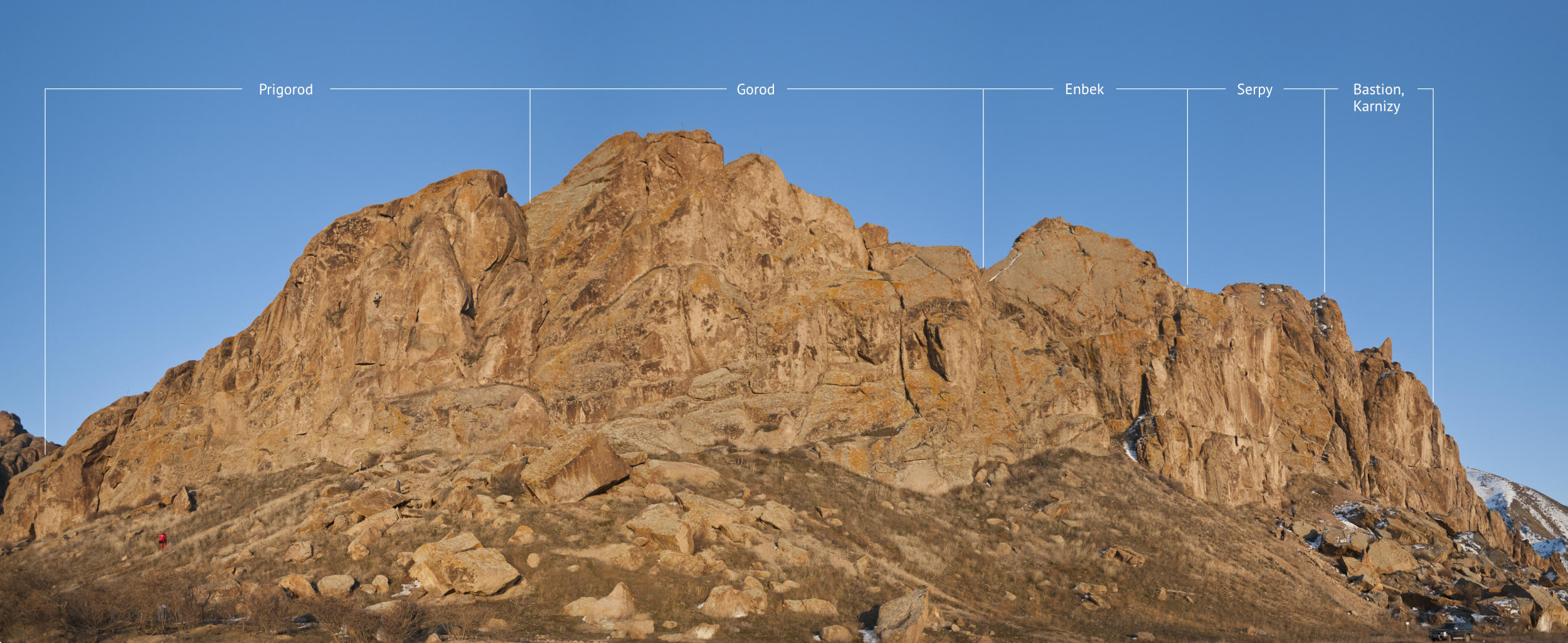 Riverside
Sectors here facing west, the sun appears here in the afternoon. When it's already warm, the rock itself could be hot. Which translates into sweaty palms and slippery holds.
Prigorod
It's a part of the main cliff from the very beginning to the big crystal-shaped boulder some 80 meters to the right.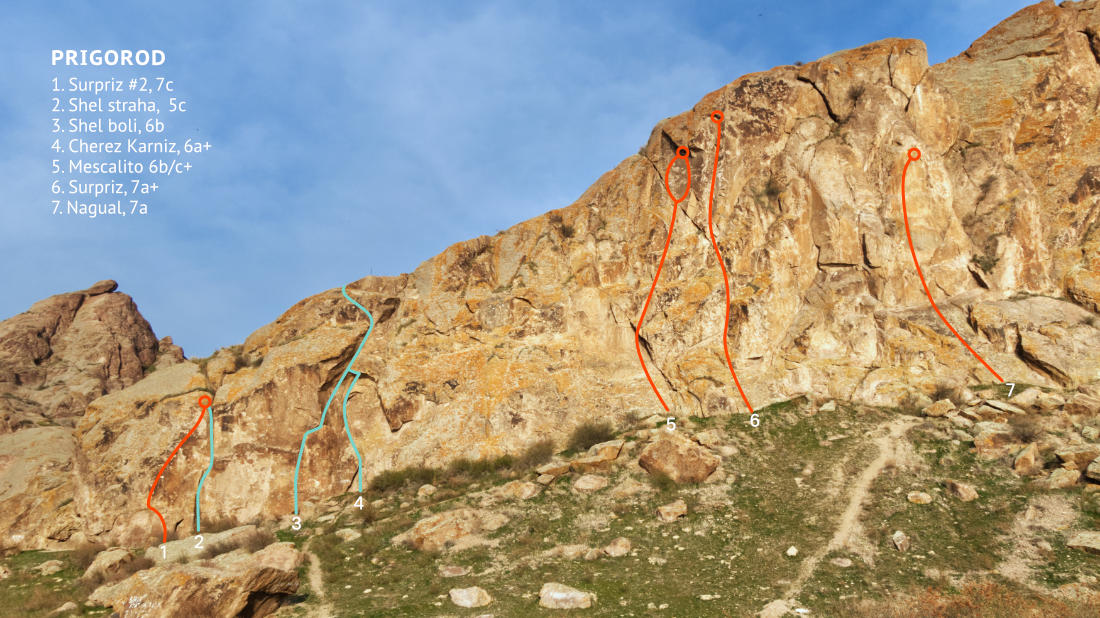 Surpriz #2 — 7с, 15m, 7 bolts. Start to the right from the bolts, then make hard traverse to the first bolt. Attentive spotter (or two) is a back saver.
Shel straha [trad] — 5с, 13m. Start to the right from the column then follow a crack as it becomes wider. To be lowered, clip the chain of Surpris #2. Cams up to #5.
Shel boli [trad] — 6b, 20m. Climb a crack along with the bolts to the narrow ledge. Then traverse to the right, put some decent pro into the solid crack and get over the cornice. Belay from the thick metal spike on the ridge. Two ropes are essential here.
Cherez karniz [trad] — 6a+, 18m. Start on a crack below the cornice. When you'll get to the cornice, traverse to the left and make an awkward move to get over. Belay from the ridge.
Mescalito — 6b/6c, 24m, 13 bolts. If you climb upper slab right of the bolts, route goes at 6c. Climb left of the bolts, and you'll get 6b.
Surpriz — 7a+, 26m, 13 bolts.
Nagval — 7a, 24m, 12 bolts.
Gorod
Gorod hosts some hard multipitches and excellent trad routes. To rappel down the route, you'll need 60m rope. There are some chipped pockets on the routes. They were made long before I bolted the routes.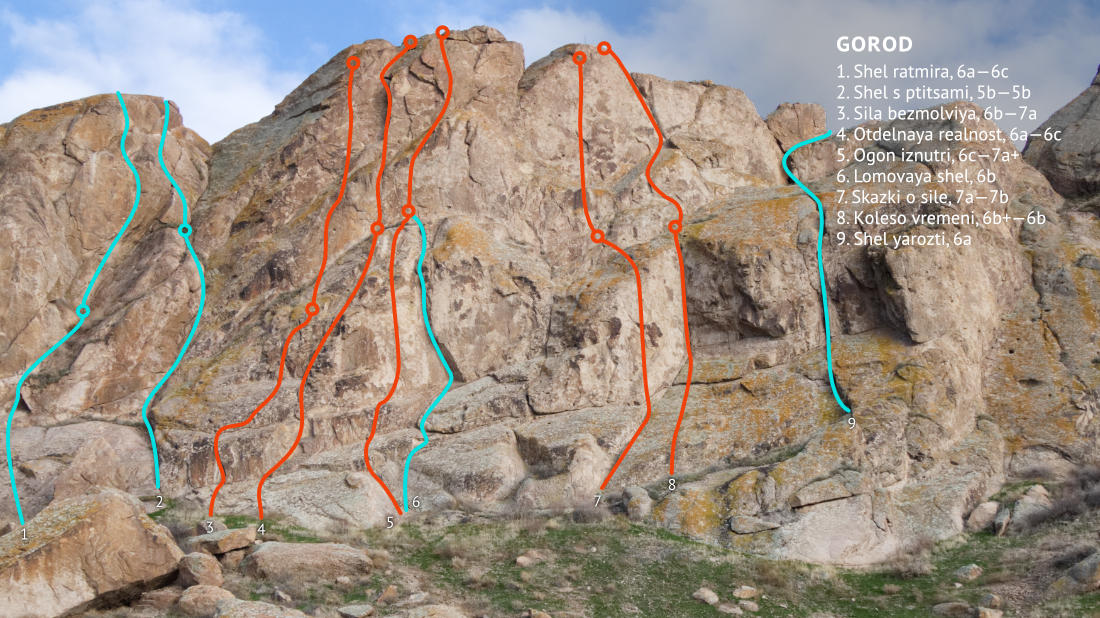 Shel Ratmira — 6c. It's better to be done in two pitches. Clip the first two bolts of the Nagval then turn right into the corner. Climb over it and make a belay below a cornice. The second pitch is hard to climb but easy to navigate—follow the crack until it leads you to the ridge. Set of cams with doubles of #1—3 is recommended.
Shel s ptitsami — 5c. The first pitch follows loose dihedral. Second goes on a slab with easy climbing, good protection and awesome views.
Sila bezmolviya
6b, 23m, 10 bolts
7a, 25m, 13 bolts
There is a ledge in the middle of the second pitch. Belayer must pay attention to the leader, while he or she climbs above the ledge.
Otdelnaya realnost
6a, 27m, 10 bolts
6c, 25m, 12 bolts
The first pitch is one of a few easy routes on the Gorod. The second pitch starts hard but later turns out into joyful corner.
Ogon iznutri
6c, 30m, 10 bolts
7a/+, 25m, 9 bolts
Gentle slab climbing on the first pitch and crimping on vertical (and more gentle slabs) on the second.
Lomovaya shel [trad] — 6b, 30m. The initial slab is easy, but protection is nil. Anyway you aren't gonna fall, right? After you reach the crack below an overhang, put a desirable .3 cam into the crack and make an insecure step on the left face, while underlining the crack. Here put as many cams as you want, the biggest which will settle—#3. Belay or be lowered from the chain of Ogon iznutri.
Skazki o sile
7a/+, 25m, 9 bolts
7b, 25m, 10 bolts.
The first bolt of the first pitch is old, scary, and 5m above the deck. Once I fell a few meters when a hanger of the similar bolt had snapped. Consider not to climb this route before it being rebolted.
Koleso vremeni
6b+, 25m, 11 bolts
6b, 20m, 10 bolts
Fine dihedral on the first pitch. On the second pitch clip a long sling on a first bolt. Or simply unclip it after clipping the second one. Otherwise, friction will add some puffing and pushing to the not-that-easy corner above.
Shel yarosti — 6a, 40m. It's convenient to climb it as one long pitch. There is simply no place to put the proper gear on the upper slab. Climb the lower corner, cross the slab, climb easy corner, and traverse to the right. Traverse will bring you to the ridge. Belay from one of the metal spikes.
I bolted Koleso vremeni in 2015, Ogon iznutri in 2016 and Sila Bezmolviya and Otdelnaya realnost in 2017.
Serpy
This wall vertical or overhang just enough to keep you pumpy on this loooong 7c.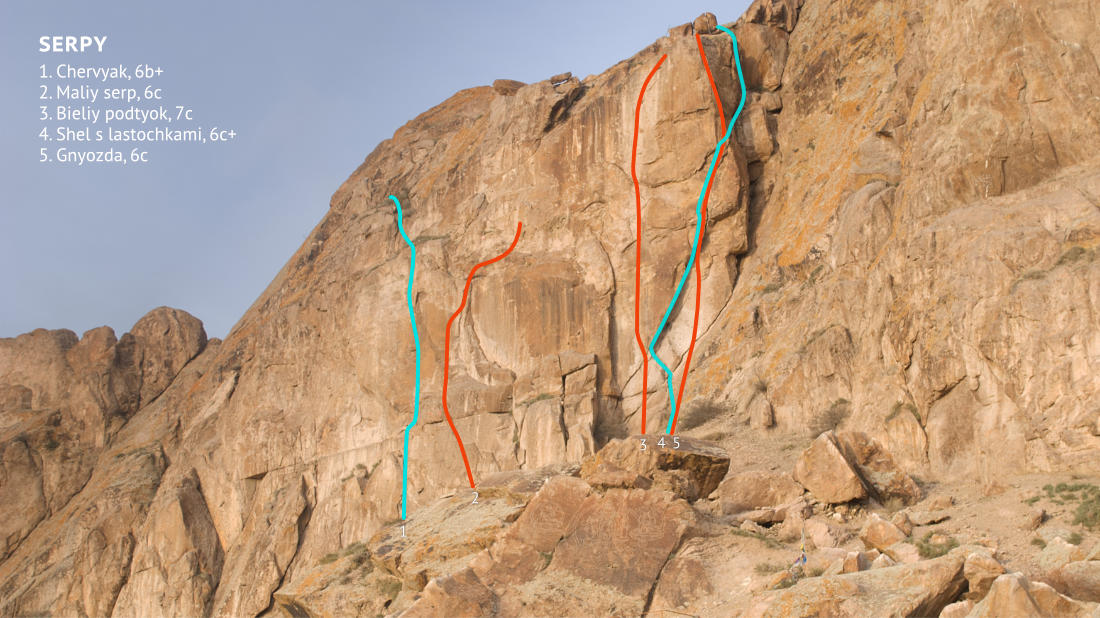 Chervyak [trad] — 6b+, 35m. Spot thin crack in the face, draw a line to the ground—here the route begins. Climb along good crack for the first 10 meters. Reach the ledge, chalk up, put some good wires, and go on. Despite a desperate look protection on the route just fine. There are hard-to-spot chipped holes right above the ledge.
Maliy serp — 6c, 25m, 11 bolts.
Bieliy podtyok — 7c, 30m, 17—20 bolts. There are plenty of drilled holes that are hard to spot. Some bolts are old but still strong.
Shel s lastochkami — 6c, 40m. The route goes below the rim of the face. Double set of cams #.3–2, some nuts and two ropes is go-to gear. You'll face some old rusty bolts along the way. Simply skip them, your cams would be much more reliable. There are swallows nests all around; don't climb the route when birds are nesting (April to September).
Gnyozda — 6c, 30m, 15 bolts. There is no chain on the top. Get on the ridge and rappel from one of the spikes. Mind the length of the route. Don't forget to tie knots on the ends of the rope.
Bastion and Karnizy
There are two levels of Bastion sector. One can reach the upper level by climbing exposed slab right of Ot vinta! However, a safer option is to climb Vremya kolokolchikov and proceed to the chain on the big ledge. Stay clipped to the chain while belaying.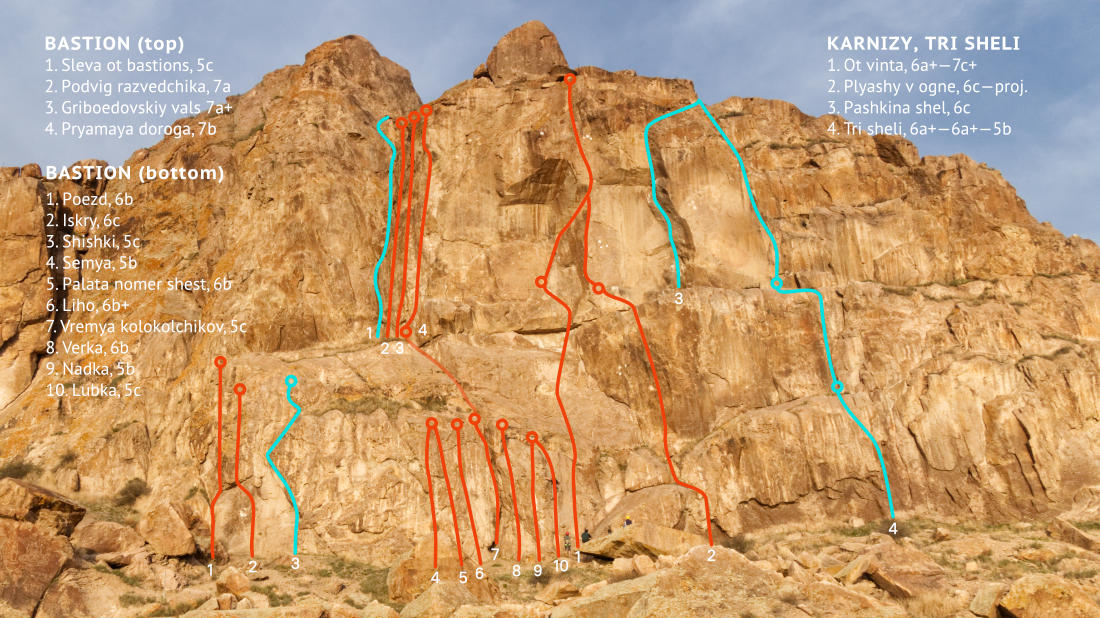 Bastion (top)
Sleva ot bastiona [trad] — 5с/6а, 30m. Wide loose crack to the left from bolted routes. Clip a sketchy bolt to protect the lower chimney, then follow the corner to the ridge. Belay from metal spike either on the right side or on the top of a bulge on the left.
Podvig razvedchika — 7а, 20m, 10 bolts
Griboedovskiy vals — 7а+, 20m, 14 bolts
Pryamaya doroga — 7b, 22m, 14 bolts. The best route of this grade. Super exposed with breathtaking views, and safe falls into the air. I highly recommend it.
Bastion (bottom)
Poezd — 6b, 22m, 8 bolts
Iskry — 6с, 18m, 6 bolts. You'll definitely love the crux.
Shishki [trad] — 5с, 18m. The biggest cam you'll need—#4. There is chain on the top.
Semya — 5b, 15m, 7 bolts
Palata nomer shest — 6b, 15m, 7 bolts
Liho — 6b+, 15m, 7 bolts
Vremya kolokolchikov — 5с, 15m, 6 bolts. Steep corner with a crack inside. It could be done on gear. Use this route and its extension to get to the upper level of Bastion sector.
Verka — 6b, 15m, 7 bolts
Nadka — 5b, 15m, 6 bolts
Lubka — 5с, 15m, 6 bolts. The route shares top with Nadka.
Karnizy
There are two hard multipitch routes below the enormous and blank cornice.
Ot vinta
1. 6а+, 30m 14 bolts. There are 25 meters of steep approach and 5 meters of real climbing.
2. 7с+, 20m 14 bolts. A test for finger strength. Luckily route-builders of past didn't drill holds here.
Plyashi v ogne!
1. 6с, 27m, 14 bolts. Interesting route with cornice in the beginning and tricky face climbing in the middle.
2. 8?, 14 bolts. After climbing an arete, the line joins Ot vinta! right below the crux.
Pashkina shel [trad] — 6с/7а, 30m. Reach the bottom of the crack by doing the first pitch of Plyashi v ogne! or first two pitches of Tri sheli (look below). The lower part of the crack protected by mid-sized cams (#2–3). Soon #6 is gonna be need. Below, the overhang #5 cam sits well. After that, be brave and powerfull and layback for 5 meters without protection, as a crack becomes too wide. Belay from the metal spike on the ridge.
Tri sheli [trad] — 6a, 50m. It could be done as 3 or 2 pitches as well as one monster pitch. Cams up to #4 are needed.
Bolting ethics
There is still plenty of space on Tamgaly-Tas rocks. There is a place for sport routes, multipitches, and trad lines. If you live or travel in the area and decided to put a route:
Use best materials available, i.e. stainless steel glue-in bolts and appropriate glue (Hilti Hit RE-500, Hilty Hit HY-200 or similar). The second option—expansion stainless steel bolts. If you don't have access to suitable gear, please don't bolt anything.
Contact me on Facebook or at kirill@alatau.guide to discuss a sector and a line.
Don't bolt obvious cracks! Cracks could be done on gear, so consider doing them in the best style you (or those stronger than you) can.
If you don't want to deal with drills, dust, and glue but want to join the process of development of the area, donate some money. One route costs approx $100, but you don't need to transfer all the sum. Even a small donation will let me buy more bolts and set more safe routes.